Mucros Weavers are renowned worldwide for their handmade Irish caps and scarves. But did you know that the company is probably one of the earliest social enterprises in modern day Ireland?
All of the profit that is generated from the sale of Mucros products is put back into a special trust that preserves and promotes traditional crafts right here in County Kerry.
The story of the Mucros Weavers is tightly interwoven with Muckross House, part of the Killarney National Park in County Kerry, Ireland. Originally built in 1843, the house was donated to the Irish Nation in 1932 by a prominent American businessman.  The house itself has a fascinating history which spans across the Great Famine to the War of Independence, and we'll tell you more of that later. First of all, let's look at how Mucros Weavers is born.
Open Gardens, and Closed Doors
Since passing to state ownership in 1932, Muckross gardens open to the public, and there is no entrance fee. However, the house itself doesn't open its doors until the early 1960s. At this stage, a group of local business people and the clergy come together to petition the government. They form a trust company to manage and operate the house and gardens as a Folklife Museum.
Their ethos and remit is to preserve and sustain aspects of Kerry and Irish folklife that might otherwise be forgotten. Specifically, they aim to promote authentic and historical Irish craftsmanship. Traditional loom-weaving, spinning, book-binding and pottery projects are set up on site.
Mucros Weavers Designer and Master Weaver, John Cahill
For over 30 years now, the Mucros Weavers brand is going from strength to strength. John Cahill is the Master Weaver and Designer. A graduate of Galashiels College in Scotland, he has been at Muckross since 1976. John is primarily a handweaver, and this passion and skill reflects in how Mucros Weavers operate to this day.
They use authentic, original looms that are over two hundred years old. As you can imagine, spare parts are hard to come by, so John and his team continually monitor for antique loom sales. This is their only opportunity to stock up on these rare pieces for future maintenance! You can see some of the weavers operating hand-looms and spinning-wheels at their exhibition room in Muckross house.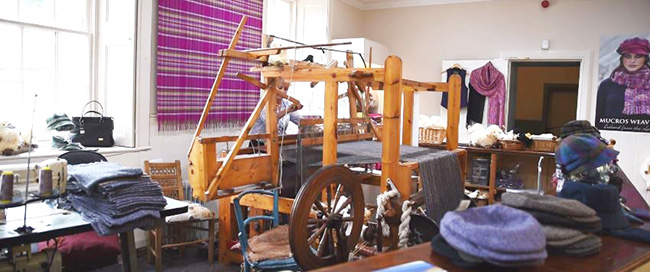 Inspired by Kerry, and Rampant Rhododendrons!
The core colours of Johns designs give real vibrancy to these stylish accessories.  He selects unique premium yarns and has them woven to his own specifications. These include fine alpaca from Peru, and his unique "Space Dye" and bouclé yarns. Each are custom-dyed specifically in Mucros Weavers chosen colours.
John's design inspiration comes from the changing colour palette in the workshop's immediate vicinity. 26,000 acres of grasslands, mountains and lakes surround them, as well as the beautiful gardens, Abbey and Muckross House itself. The blues, greens and greys of the landscape are lifted by the outrageous pinks and purples of the wild heathers, hydrangea and rhododendrons that grow abundantly. In fact, rhododendron spread is so vigorous that the Park must aggressively manage growth every year.  Just this year, they were even subject of a curious Dáil Éireann debate!
"The rhododendrons are taking over completely, despite efforts to cut them… The rhododendron situation has gotten so bad in Killarney National Park, Minister, that nothing short of calling in the army would put it right!" Kerry TD Michael Healy-Rae, Feb 21st, 2017. 
High Quality Weaving, The Traditional Irish Way
As demand for Mucros Weavers original products increased, Johns team expanded the number of original looms. Their only "modernisation" is to mechanise some of them with a small electric motor to speed up the process. The final product is of exactly the same high quality and finish. One cannot tell the difference between a scarf from a handloom or from one with electricity. According to Mucros Weavers, it makes no difference, it just means they can bring this product to you at a much more affordable price.
They have 6 looms and a working mill, and the average loom produces just 30 scarves a day at full capacity. Total production is around 180 scarves a day, each one a real "limited edition" compared to modern manufacturing techniques!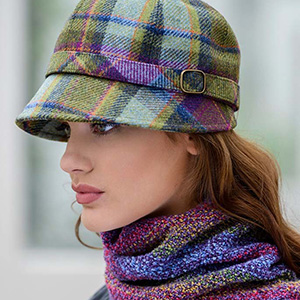 When you own a Mucros scarf, for example, you are wearing a unique product that is individually woven.  For durability, it is woven with a "selvedge", an edging on either side of the scarf to ensure it doesn't unravel. Furthermore, the weave from a traditional handloom has a very loose and open style. Modern-day looms can't reproduce this, as they are designed for wider, tighter fabric weaves.
Next, the Mucros Weavers trim the scarves and take them off the loom. Each one is individually knotted or hand-tasselled. Some are washed for a special finish. Finally, they stitch on the unique Mucros label of authenticity, and the product is ready for quality inspection and sale.
See the Mucros Weavers traditional looms, and their handcrafted products being made here:
https://youtu.be/srpKYj5_Ex4
So what about the house? Why does it pass from private ownership, to the people of Ireland?
The Story of Muckross House (Teach Mhucrois)
In 1843, The Right Hon. Henry Arthur Herbert commissions a British architect, William Burn to build his family home. The location for Muckross House is on a peninsula between two of the Lakes of Killarney, in County Kerry.
Get ready, The Queen is coming!
By 1855 the Herberts are preparing their home for a visit from Queen Victoria and her husband Albert, the Prince Consort.  For the next six years they spend lavishly on upgrading and decorating the house and grounds.  From Persian carpets to new silverware, servant's uniforms to ornate tapestries, everything had to be the best.  Curtains are specially woven in Paris just for the Queens visit.
"An entire section of the mansion has been set apart for the royal family, so that all their apartments communicate without the necessity of passing into the corridors to be used by other occupants of the house. The Queen will live here in privacy, and from the windows of her rooms she can walk into delightful grounds, which will be kept private during her stay at Muckross. In her sitting room – which, like all the others, is a splendid apartment furnished richly and tastefully, there is a series of views of the Lakes of Killarney, painted by Mrs Herbert. They are works of the highest artistic excellence.'  Kerry Evening Post, Wednesday 28 August 1861
Without doubt, the Herberts plan meticulously for this important Royal event, as they have great ambitions. Stories tell that Herbert expects to receive a further title from Queen Victoria, and is at great pains to put on a good show. Unfortunately, this story ends in disappointment and his family's financial demise.
An unexpected ending…
The Queen makes a successful visit with Prince Albert and three of their children. Considering 6 years of elaborate expenditure, it is surprising to find that the Royal party are only staying here for two nights!
From Tuesday 27th August 1861 to Thursday the 29th, they stay at the house, visiting the lakes, the Abbey and also Torc waterfall. They say Queen Victoria is "enchanted" by her stay. She gifts some precious jewellery to the Herbert ladies before she departs.
Everything seems like its going to plan!  But the opposite is the truth…
Shortly after the Royal family return to London, Prince Albert takes ill. He does not recover his health, and succumbs to typhoid fever, eventually dying on December 14, 1861. The Queen is inconsolable, and neglects social duties whilst the family mourns Prince Albert's death.
The Killarney visit, and the recognition and reward for the Herberts is overlooked, or forgotten.
Having overextended themselves, the Herbert family now run into financial difficulties.  Income is down as the land and tenants are still recovering from the aftermath of the recent famine. (It is a sobering thought to realise that, during this renovation period, Kerry was suffering from a 30% loss of population because of the Great Famine of 1847-1852.)
Muckross House Changes Hands
By the time we reach 1897, The Standard Life Insurance Company refuses any further loans to the Herberts. In 1898 Standard Life repossesses the entire Muckross Estate and offers it for sale at auction in Dublin. They eventually make a private sale to Lord Ardilaun, a member of the Guinness Family who is also a relative of the Herberts. The Ardilauns spend little time at the property, it seems like they consider it a hunting lodge rather than a residence. In fact, they lease it out, on an annual basis, as a game lodge.
One of the most noteworthy tenants is the wealthy American citizen, Mr William Bowers Bourn. He owns a Gold Mine, and a Spring Water company in California. Mr Bowers Bourn rents Muckross House in 1910, and decides to buy it shortly afterwards. The house is a wedding gift for his daughter, Maud and her new husband, Arthur Rose Vincent.
The couple go on to build another home in California in 1916. They call it "Filoli" and decorate their ballroom with scenes from their Irish home on the Muckross Estate. Back here in Muckross, they spend over 100,000 pounds upgrading their gardens alone!
In 1929, Maud leaves Kerry for California to visit her parents. Sadly, she contracts pneumonia on her travels and dies en-route in New York. Arthur and the children continue to live at Muckross until 1932.
Too much for one person – A gift to the Irish Nation
After consulting with his in-laws, the widowed Arthur concludes that no private individual could ever sustain the Muckross Estate. In July of 1932 he writes to the then  "President of the Executive Council  of the Irish Free State" , Eamon de Valera.  He presents Muckross to the Irish Nation and the transfer takes full effect on December 31st. The government receive the estate on the condition that they maintain and manage it as a National Park, for the enjoyment and recreation of the Irish public. In fact, it becomes Ireland's first National Park and forms the basis of the present day Killarney National Park.
The gardens and grounds are immediately open for the public to enjoy. The house, however, remains closed. The authorities reach no consensus as to how to deal with the property. In 1964, local business people and the clergy launch a campaign for Muckross House's revival as a Folk Museum.
As a result, the Government grant the association a five-month trial to test out their ideas. An astonishing 19,500 people visit in the first season, a resounding success! The Trustees of Muckross House Ltd become incorporated, and take responsibility for preserving the History and Folklife of County Kerry. Today the Trustee's Company has over 200 members, originating from Kerry to as far afield as Monaco. They all share a vision for the future of Muckross House and Gardens.
Muckross House and Gardens Today
The Trustees have a special remit and ethos for Muckross. In addition to maintaining the house itself, they promote and preserve traditional Irish crafts in the grounds. You can see a traditional working loom from the Mucros Weavers here, and experience the landscape that inspires their designs. You can also visit the Mucros Pottery and the Conservation Bookbindery.
Muckross is also home to three separate working farms, complete with animals, poultry and traditional farm machinery. Take a stroll down memory lane to a time before electricity, and see many of the "old Irish ways" still in action. There's horse-drawn ploughing in the fields, and sheepdog demonstrations. Follow your nose to where fresh Irish bread is baking, and see the churning of some real Kerry butter. There are wood carvers, basket makers, and crafts of all kinds.
When visiting County Kerry today, you can spend a whole day, or more, on the Muckross Estate in Killarney's National Park. The guided tour of the Muckross House is especially relevant to lovers of social history, and you'll find out lots more about the history and recent developments.
Muckross Abbey
Also on the grounds is Muckross Abbey.  This 15th century ruin of a Franciscan Friary is a very beautiful, peaceful and atmospheric site. It becomes especially relevant in the 17th and 18th centuries as the burial place for prominent County Kerry poets O'Donoghue, Ó Rathaille and Ó Súilleabháin.  Piaras Feiritéar  also rests in the graveyard.
Muckross House, the Gardens, Farms and Abbey provide, of course, the perfect photo-shoot locations for the Mucros Weavers. Who else can boast such a stunning backdrop, literally on their doorstep?
The breath-taking landscape around Mucros Weavers is truly inspirational. Get a bird's eye view right here!
We hope you have enjoyed our short introduction to Mucros Weavers and the Killarney National Park.
In conclusion, we at Skellig Gift Store are proud to present our extensive collection of premium Mucros Weavers clothes and accessories. In addition to the iconic Mucros Caps and Scarves, we are now offering fine tweed items, perfect for more formal occasions.
Take a look at this season's gorgeous ladies cape, and gentleman's waistcoast.
Our customers especially love the bags from Mucros Weavers. Celtic designs are always popular, and the contemporary tweed bag range co-ordinates with their hats, capes and scarves, too.
Finally, it's always been part of our own family's ethos to promote artisans and craftspeople here in our home county of Kerry. At Skellig Gift Store, we've a love for Kerry in particular, and Ireland in general. We want to share it with you, too!
Do you have a Mucros Weavers item? Have you ever visited the weavers at Muckross House?
Connect with us on facebook and twitter, or talk to us in the comments below.
We love to hear from you!